Overview
Amritsar Local Gurudwaras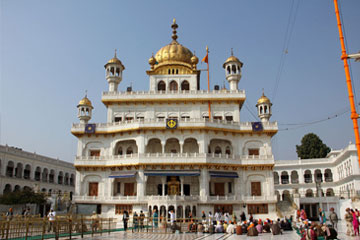 We organize Amritsar Local Gurdwara Darshan Tour which includes Golden Temple(Harimandir Sahib), Baba Atal Sahib, Gurudwara Ramsar Sahib, Sheedganj(Shaheeda), Tahla Sahib, Taran Tarn Sahib, Chheharta Sahib, San Sahib, Damdama Sahib, Khadoor Sahib
This 1 Full Day tour cover some Gurudwaras as below:
Golden Temple: Harimandir Sahib "Golden Temple"- the most important sikh shrine.
Baba Atal Rai Ji: Baba Atal Rai, a son of sixth Guru Har Gobind Sahib ji. Atal Rai, at the age of nine, revived one of his close friend, to life after his sudden death. Guru Hargobind considered his son's act against the Sikh tradition and rebuked him for performing a miracle. It is said that Atal Rai told his father that he would lay down his own life for breaking the law of nature by reviving his friend from the dead. So he went into a meditative trance and soon breathed his last.
Ramsar Sahib: SHRI GURU ARJAN DEV JI got a Holy Tank (Sarovar) dug here and named it RAMSAR SAHIB after name of SHRI GURU RAMDAS JI. It was calm place and GURU SAHIB got his tent pitched on the south side of Sarovar. GURU SAHIB started dictating SHRI GURU GRANTH SAHIB JI
Shaheeda Sahib: Gurdwara Shaheed Baba Deep Singh Ji (Shaheedan Sahib) is a famous gurdwara in Amritsar. As Taimurshah and Jahan Khan shown dis-respect for the Holy Shri Darbar Sahib and started to fill the Holy Sarovar, Baba Deep Singh ji, got anger and not considering his old age, went to Free the Holy Darbar Sahib from the Muslim Invaders. For this he carried 18 Feet Heavy Khanda (Sword).
Jahan Khan sent thousands of soldiers to stop Baba. A fierce battle happened between Baba and the soldiers of Jahan Khan. In this battle, the opposite force beheaded Baba. A singh soldier standing close to Baba remided him the vow he has taken and as a miracle, Baba ji held his head in his left hand and with his right hand fought the force.
With this attire, Baba reached Harminder Sahib and offered his head.
Tahla Sahib At the place, where Baba ji was beheaded, there was a very big Seasham tree(Tahli) with bigger girth due which it is known as TAHLA SAHIB and therefore, this Gudwara is known as TAHLA SAHIB. it is hardly 7 kms from Amritsar on Tarn Taran Road.
Baba Naudh Singh Di Samadh: The martyrdom place of Baba Naudh Singh also known as 'Baba Naudh Singh Di Samadh ' situated on Amritsar-Tarn Taran road stops for a while to pays his respect to the great martyr who was the deputy chief of Baba Deep Singh, the then chief of Nihang Jatha , Tarna Dal , to make a wish, make offerings and participate in langar . This goes on all through day
Taran Tarn Sahib: Around 1590 SHRI GURU ARJAN DEV JI set out on a tour of the country between the rivers Ravi and Beas. Here SHRI GURU ARJAN DEV JI bought some land and laid the foundation of a GURUDWARA SAHIB in honor of SHRI GURU RAM DAS JI. GURU SAHIB started the excavation of a tank even larger than of GOLDEN TEMPLE. The GURUDWARA SAHIB has one of the largest tanks and resembles the GOLDEN TEMPLE, except that it is built on the side of the tank and has a marble exterior. SHRI GURU ARJAN DEV JI also established the first home for lepers in India at Tarn Taran.
Inclusion
3 Star Hotels with Buffet Breakfast & Dinner, Private Cab with Including All Taxes
Exclusion
All Activities, Extra Meals, Air/Train Tickets